The Pride of the Caucasus: 10 best fighters from Dagestan
Fighters from the Caucasus region have always been considered special. These guys grow in the mountains, train martial arts since childhood and learn tough life lessons, while the hot blood of their ancestors flow in their veins, forged by years-long history of battles and wars. And the Caucasian fighters transmit all these qualities to our days. In the last 5 to 6 years, the UFC experienced a real inflow of Russian fighters with most of them being Dagestani. Today we're going to talk about top ten fighters from Dagestan.
---
10. Rashid Magomedov
Sport: MMA
Record: 23-4-1
Photo by Jason Silva, USA Today


35-year-old Dargin Rashid Magomedov has proved to be one of the most calm, self-collected, and disciplined Russian MMA fighters. The "Highlander" has been performing in the mixed martial arts for more than 10 years already with performances in the best Russian and world promotions. His pro career started in 2008; in four years he earned M-1 Global welterweight championship title after defeating Yasubey Enomoto. Magomedov is one of the few Dagestani fighters who rely on his striking technique more than on his wrestling. He starts slowly, carefully examining and checking his opponent to then gain pace and deal with him on his feet.
In 2014, Magomedov was signed by the UFC and had an impressive four-win streak there. UFC long-time commentator Joe Rogan was impressed with the Dagestani skills while fans demanded for a top opponent for Rashid. The UFC organized his fight with Beneil Dariush which Rashid lost via unanimous decision. After his first loss in the UFC Magomedov had one more contract fight, defeating Bobby Green, and then left the promotion. He moved to the PFL where fighters clash for the title and one million dollars in prize every year. Magomedov had seven fights there with record of 4-2-1. He proceeded up to the gran-prix final in the lightweight division last year but lost to Natan Shulte. He is currently performing in the PFL second season and, hopefully, will show better results.
---
9. Ali Bagautinov
Sport: ММА
Record: 19-6
Ali Bagautinov was one of the pioneers among Caucasian fighters in the UFC and the first fighter from Russia who got the title shot in the promotion. Ali came to MMA from combat sambo where he had achieved great heights as the world champion. His pro career started in 2009 with the Russian Fight Nights promotions where he held the flyweight title. In 2013, Bagautinov made his UFC debut in the flyweight division that was only forming in the promotion. It allowed him to quickly get the title shot after three straight wins over Marcos Vinicius, Tim Elliott, and John Lineker. Bagautinov took the unluckiest chance of getting the title shot when Demetrious Johnson was reigning in the division. Not only the champ took the Russian opponent to pieces but Bagautinov also tested positive for EPO. After his disqualification, Ali came back, had a few more fights and returned to the Fight Nights Global where he's performing to this day.
We included Ali into our list because he was performing at the world-class level and gave competitive fights to three best flyweight fighters of that time: Demetrious Johnson, Joseph Benavidez, and Kyoji Horiguchi. He comes at the end of the list only because he smeared his reputation with drug-test scandals both in the UFC and combat sambo where he tested positive in 2012.
---
8. Dzhabar Askerov
Sport: Kickboxing, Muay Thai, MMA
Record: 109-35-2 kickboxing, 8-0 MMA
Photo by ONE Championship


Ethnic Lezgin Dzhabar Askerov started his path in the martial arts with judo when he was only 6. His family moved to Derbent when he was 9 and his father took him to Muay Thai gym where Askerov fell in love with the sport. At 18 years old Dzhabar had his first professional kickboxing fight and from then on things went up and running. He currently has almost 150 fights in his pocket with more than a hundred of wins (54 finishes). Askerov faced legendary fighters in the ring, such as Buakaw Por. Pramuk, Mike Zambidis, and Giorgio Petrosyan. He also defeated Andy Souwer, Enriko Kehl, and Enriko Gogokhia. All in all, an impressive portfolio.
Dzhabar is currently performing in the kickboxing gran-prix of the ONE Championship with $1M at stake. After defeating Enriko Kehl via unanimous decision, Askerov proceeded to the semifinal where he's about to face Samy Sana. It's also worth noting that apart from kickboxing Askerov also ventured into both boxing where he had one six-round bout in 2016 and MMA where he has a rather good record of 8-0 with six wins by KO.
---
7. Muslim Salikhov
Sport: MMA, Sanda
Record: 14-2 MMA, 185-13-1 kickboxing
Photo by Mark J. Rebilas, USA Today


Not everyone in Russia knows who Muslim Salikhov is, even less people heard this name in the USA. But he is a real star in China. The reason is that Salikhov is Sanda master, many-time Sanda world champion and one of the only two non-Chinese in the whole world to win the title in the "King of Sanda" tournament. He gained his status as one of the best Sanda fighters in history ten years ago.
With time, Salikhov began to combine his career in Chinese kickboxing with that in the MMA where he stepped into in 2011. The "King of Kung Fu", as he was and still is called, performed in various promotions, including M-1 Global and Kunlun Fight. In 2017, Salikhov got a chance to show his worth in the UFC after he made a statement by knocking out UFC vet Melvin Gillard with a spinning hook kick. Salikhov lost his UFC debut fight to Alex Garcia but a year after he landed a quick KO to Ricky Rainey, proving that he deserves fighting in the best MMA promotion. Salikhov looks good standing which is practically a signature mark of any Sanda fighter. Nothing speaks better for Salikhov than his four spinning kick knockouts.
---
6. Islam Makhachev 
Sport: ММА
Record: 17-1
Photo by MMA Junkie, USA Today


Khabib Nurmagomedov's teammate and friend Islam Makhachev didn't wangled into our list, he deserved his place. Makhachev is among top 15 of the lightweight division and for a reason. He has six wins inside the UFC Octagon with only one loss. When he was a kid, he used to try everything – from freestyle wrestling to Sanda – which made him into one of the best all-round fighters to date. He is as good standing, throwing quick and powerful punches, as he is on the ground where he lands submission holds in a flash. In the beginning of his career Makhachev performed in such promotions as M-1 and Pro FC.
In 2015, Islam made his UFC debut after making Leo Kuntz submit. In his second fight Makhachev faced more seasoned Brazilian Adriano Martins who knocked Islam out. That was one of the cases when a defeat only made the fighter stronger. Makhachev came back and destroyed his next opponents, knocking out vet Gleison Tibau one minute into the fight and making Kajan Johnson submit with a beautiful armbar. Last time Makhachev entered the Octagon in April when he defeated first-timer Arman Tsarukyan by decision. Makhachev is currently number 15 of the UFC lightweight division rankings and is looking forward for the most interesting part of his career. He is about to face Brazilian Davi Ramos at the UFC 242 and if Islam wins, he may rightfully claim the fights against top 10, like Paul Felder, Al Iaquinta or Edson Barboza.
---
5. Khabib Allakhverdiev
Sport: Boxing
Record: 19-2
Photo by Boxing Scene

Born in Kurush mountain village, Khabib Allakhverdiev began to do boxing since he was 9. During the next 11 years Allakhverdiev sharpened his skills to show them at the 2005 World Amateur Boxing Championships. Khabib won bronze medal after losing to the winner Yordenis Ugas. In two years, Allakhverdiev takes the name of the "Hawk" and starts conquering professional boxing. He had his first fight at the Madison Square Garden in New York. After 15 wins Allakhverdiev gained a title shot for the WBA Fedelatin belt. He earned the title after he defeated Ignacio Mendoza by TKO. However, his biggest achievement to date is the IBO light welterweight title that he earned in 2012 after knocking out Kaizer Mabuza. Allakhverdiev didn't rest on his oars though. He defended his title against Joan Guzman and earned regular WBA light welterweight title. His next two fights were the last in his pro career. First, he lost both his titles to Jessie Vargas and then Adrien Broner finished him with TKO. Despite his career ended with two losses, Khabib Allakhverdiev is still one of the most outstanding Dagestani boxers.
---
4. Sultan Ibragimov
Sport: Бокс
Record: 22-1-1
Born in Tlyarata mountain village, Sultan Ibragimov came into boxing when he was 17, when he arrived to study in Rostov-on-Don. It was there he met his first trainer. After eight years of training, Sultan went to 2000 Olympics in Sydney where he earned silver medal. The year after he took bronze at the World Championship and then switched to pro where he performed in the heavyweight division.
Sultan had a quick start; he secured more than 10 wins in two years and then claimed WBO Asia Pacific heavyweight title that he had been holding for 14 months. He defended the title six times, including his bouts against Al Cole and Zuri Lawrence. But the real popularity hit Sultan in 2007, when he earned WBO heavyweight title, defeating Shannon Briggs by decision. Another great contribution to his own fighting legacy Ibragimov made in his next fight when he retained the title against legendary Evander Holyfield whom he also defeated by decision. Ibragimov's career ended after he met Ukrainian phenomenon Wladimir Klitschko in the unification bout when Sultan lost his title. Ibragimov decided not to put his career through the wringer and retired at the age of 32.
---
3. Volk Han
Sport: MMA
Record: 49-9
Magomedkhan Gamzatkhanov, better known in the fighting community as Volk Han, is in top 3 of our list for a reason. The thing is, you are probably now reading about Dagestani fighters at the world scene only thanks to this man. Many think it's Fedor Emelianenko who opened a window to MMA for Russian fighters but Volk Han made it even earlier. By the way, he was one of Fedor's coaches and mentors in the beginning of the "Last Emperor's" career.
Sport career started for Han the same as it did for any common Dagestani boy: his PE teacher asked him to perform at the Dagestan Championship just to get the score and when Han lost, it wavered his ego and pushed him to start his path in the MMA sphere. Day by day, Han sharpened his wrestling skills, then moved to sambo. When Han served in the military (assault forces), his army trainer noticed his potential. Gamzatkhanov was offered to train regularly and more seriously and he said yes. Few years later Han was the first Russian who was taking his humble steps abroad, in the unchartered waters known as "mixed martial arts." He performed in the Japanese Rings promotion where Fedor Emelianenko would later start his career. Han had been fighting since 1991 and had a total of 58 fights with 49 wins. He faced such outstanding fighters as Tsuyoshi Kohsaka, Akira Maeda, and Antonio Rodrigo Nogueira. For a huge contribution to the development of MMA in Dagestan and Russia, we award Volk Han with the third place of our rankings.
---
2. Zabit Magomedsharipov
Sport: ММА
Record: 17-1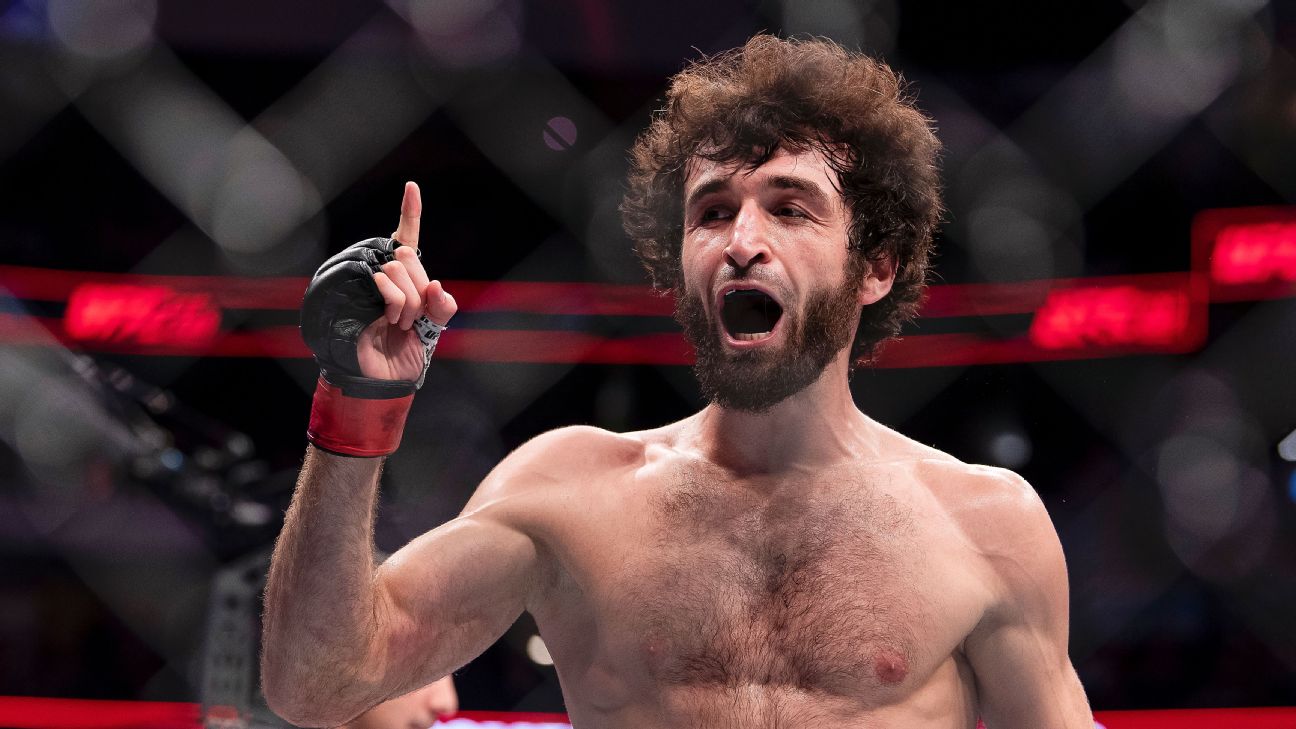 Photo by Andrew Hancock, ESPN


One of the most promising UFC fighters of not only Dagestan but the whole Russia as well takes second place in our list. Charismatic shy guy Zabit Magomedsharipov quickly won over a fanbase with his decent behavior and an incredibly bright fighting style. Zabit devoted his entire life to martial arts. He spent his young days in MMA gym called Pyat Storon Sveta ("Five directions of the world") where he used to live, learn and train Sanda thrice a day for almost ten years. It's no surprise such a devoted practice forged such a creative, impressing but at the same time disciplined fighter out of Zabit.
Zabit made a name when he was yet performing at the ACB where he earned the featherweight title. In 2017, Magomedsharipov made his UFC debut and immediately let everyone know he was not the fighter you were going to get bored watching. He landed a showtime kick that impressed even the worst sceptics. After showing his wide arsenal of punches, Zabit switched to his grounding technique when he made Mike Santiago submit with a rear-naked choke and got praised by analytics and experts. From fight to fight, Zabit keeps gaining awards and bonuses and showing his improvements in both ground and pound. He is now the number five of the UFC featherweight division with five straight wins in the UFC, including victory over Jeremy Stephens in his last fight. And he is only 28 years old! The guy has a big future and, according to many experts, he may get a title shot next year. We're looking forward to see it, as we know for sure – if Zabit stepped into the cage, you are in for a treat of a show.
---
1.
Khabib
Nurmagomedov
Sport
:
ММА
Record
: 27-0 
Photo by Steven Sulvanie, USA Today
Of course you knew who's gonna be the "winner" of our rankings when you began to read the article. No surprise here. It's hard to find more influential figure among the Dagestani fighters than Khabib Nurmagomedov. The "Eagle" drew everyone's attention to his persona in 2012, when he became the first Russian fighter in the UFC history. His career was full of obstacles and sometimes it looked like the fate itself countered Khabib. However, he never flinched, like a real Dagestani warrior. He kept moving forward.
It took Khabib six years, nine fights, numerous injuries, weight cut exhaustions, and heavy trainings to achieve the title shot. During his quest for the title, Khabib defeated such fighters as Rafael dos Anjos, Edson Barboza, and Michael Johnson. In 2018, he finally had a title shot, defeated Al Iaquinta, and earned the UFC lightweight title. But his triumph to date is certainly his bout against Conor McGregor in which he destroyed the Irishman and earned both a huge sum of money and global fame. Khabib is already a role model for dozens of thousands of boys not only in Dagestan but all over the world. And he is still at the peak of his career. Imagine what's going to be next…